Select your photo puzzle:
See how easy it is
Video: Turn your photo into a jigsaw puzzle.
For those who love watching more than reading: In this short movie clip we show how our premium puzzles look, which variants are available and how easy the proceeding of creating a puzzle on your computer is. Get yourself an idea of our good looking boxes and the characteristics of our puzzle pieces - on moving images more catchable, more real.
Different puzzle sizes
Puzzle boxes with beautiful layouts
Easy and quick online creating
Discover our unique photo puzzle for your most beautiful photographs. Let the curtain rise.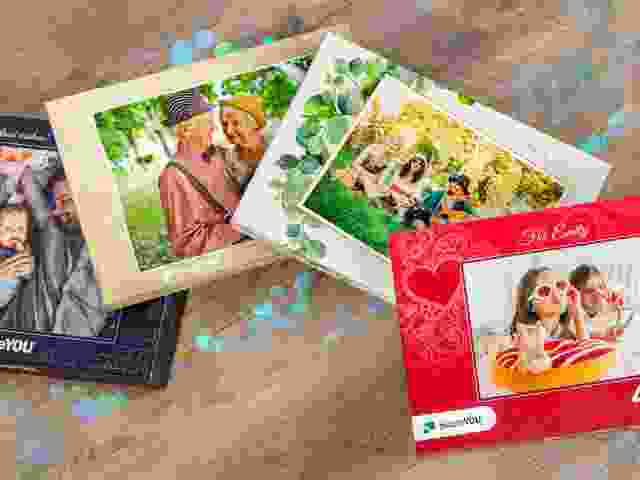 Individual give-away puzzle box - more than just a package
It is the perfect selected outfit that turns your photo puzzle into an impressive gift. How good, that we do deliver this suitable outfit at no additional costs. Our photo puzzle variants with 48 - 2000 pieces come with the puzzle pieces inside a stable puzzle box - with the puzzle image printed on top.
With a personal dedication on the cover, your personal photo puzzle is complete. Thanks to a range of 80 different box layouts you are well prepared for every thinkable occasion - our design team has created these layouts with a lot of love for details.
We know that you never get a second chance to make a first impression.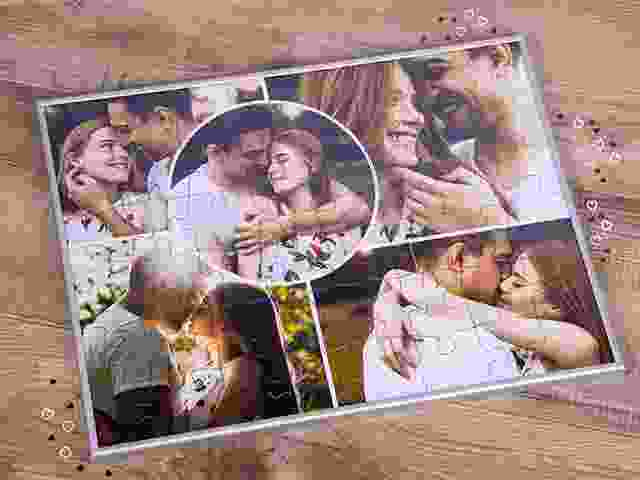 Step out of the frame with a frame
We admit that we stepped a bit out of the frame with our idea to frame a jigsaw puzzle. We think however, that a personal photo puzzle is much too valuable to put it back into the box after it has been completed. It were some of our customers who asked us how to hang up their photo puzzle, who made us start projecting a tailor-made frame for all our puzzle variants - in proper style with matt silver sides and premium glass1 .
Puzzle Accessories for an even better puzzle experience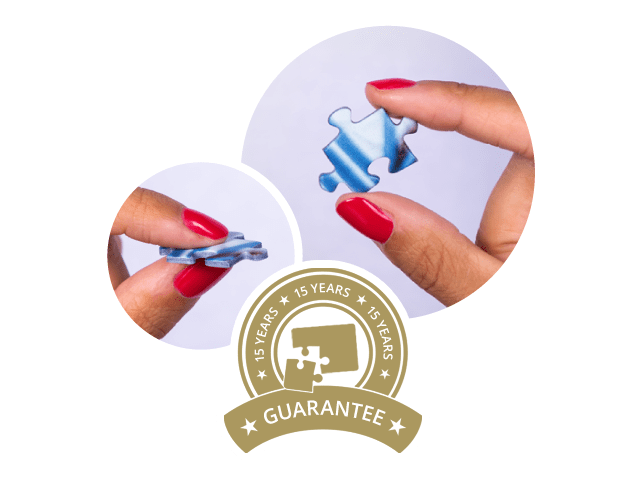 In the end, quality counts
How good it is to feel that you are in good hands. To give you this feeling we pay the highest attention to the quality characteristics of our photo puzzles - starting with the cutting up to the surface coating. A large number of quality assurance steps guarantee that you will enjoy your photo puzzle, even after many years. For this reason we grant a 15-year quality guarantee - without ifs and buts. After all, we are not talking about an ordinary jigsaw; this is all about your very personal premium photo puzzle.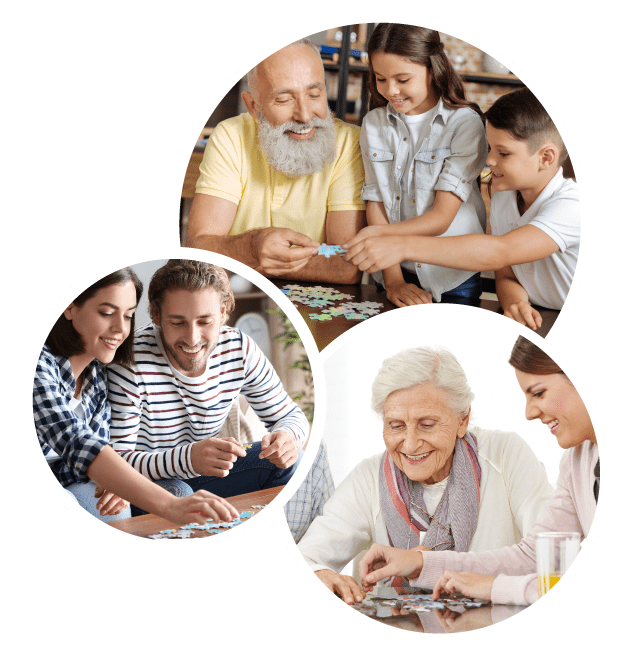 Do yourself a favour
Putting a puzzle is good for your health. People that have been putting jigsaw puzzles since ages now have discovered the photo puzzle as a revival of their hobby. Who wants an ordinary puzzle if you can have your own? Puzzles with a personal photograph conquer the rooms of our nation. Why does putting a puzzle bring us such joy at the end?
Well, every jigsaw puzzle is some kind of a challenge that we want to take up. A beloved photograph as the main motif on the puzzle is an extra motivation to reach the goal. Puzzle friends confirm that putting a photo puzzle really has a relaxant effect. It is just the most exciting calming down.
There are also people that are more focused on the artistic component of a photo puzzle. They shoot an extraordinary landscape photo or paint a picture, have it scanned and turn it into a photo puzzle. It is unnecessary to mention that they do not want to put the puzzle back into the box after having finished the puzzle. For them the puzzle frame is the first step to their own hall of fame.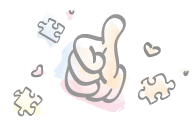 How do I choose a photo puzzle?
The amount of pieces determine the level of difficulty

Our range contains photo puzzles with 48, 100, 200, 500, 1000 and 2000 pieces. It is our goal to meet as many requirements as possible, from absolute beginners as well as from professionals. In general, you may say the higher the amount and the smaller the pieces, the more difficult the puzzle will be to put. For this reason photo puzzles with less and larger parts are more suitable for children and the elderly. Although it is quite difficult to estimate and say which puzzle is most suitable for which age, we have prepared an age recommendation on every photo puzzle detail page.

From ordering to shipping

First you should decide whether you want to have your photo puzzle with only one photograph or with several pictures. Sometimes it is too hard to decide which photo will be the chosen one. After having uploaded a photo, the preview shows with a five star rating if your photo is suitable for the chosen puzzle size. Generally, we may say that the more different colours your photograph has, the easier it will be to put. By preparing the puzzle box, you may enter a dedication or a text up to three lines that we print on the cover of the box.

With a box

Our Photo Puzzles come with disassembled pieces that have been put in a individual puzzle box, that may serve as a gift box. The ordering process allows the picture and a personal dedication to be printed on the cover of the box. 80 different box layouts take care that you will always find the right box for your occasion. If you want the puzzle to be a real surprise, you may even select a box where the uploaded image will not appear on the cover. In that case, the gifted person has to complete the jigsaw in order to see what motif is on the puzzle.

After having finished creating your puzzle and box you will have the option to obtain accessories, such as a Puzzle Frame, Puzzle Conserver or a Puzzle Mat . After having placed the order, you will receive a confirmation with a link to your personal status site, where you find the actual status of your order and the expected delivery date. After the parcel has been handed over to our shipping partner, we will send you a shipping confirmation with a tracking number.
All prices include VAT and exclude postage.

1

For security reasons the frame for the photo puzzle with 2000 pieces is produced with high quality synthetic glass.